Some voters had to carry umbrellas and wear rain boots to the polls Tuesday as severe storms hit the Interstate 95 corridor along the East Coast on Election Day.
Interested in
Weather?
Add Weather as an interest to stay up to date on the latest Weather news, video, and analysis from ABC News.
Areas from the Carolinas north through Washington, D.C. and southern New Jersey were expected to be affected.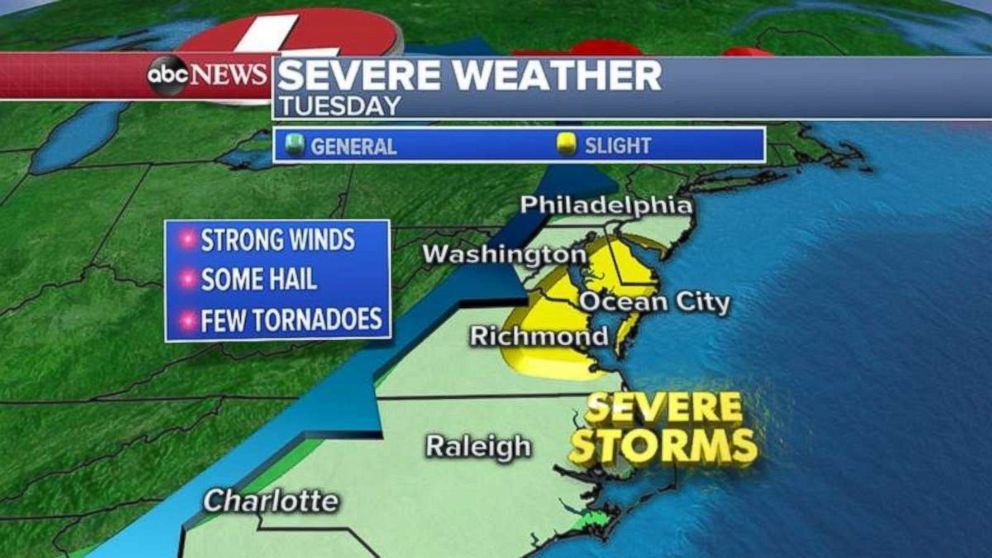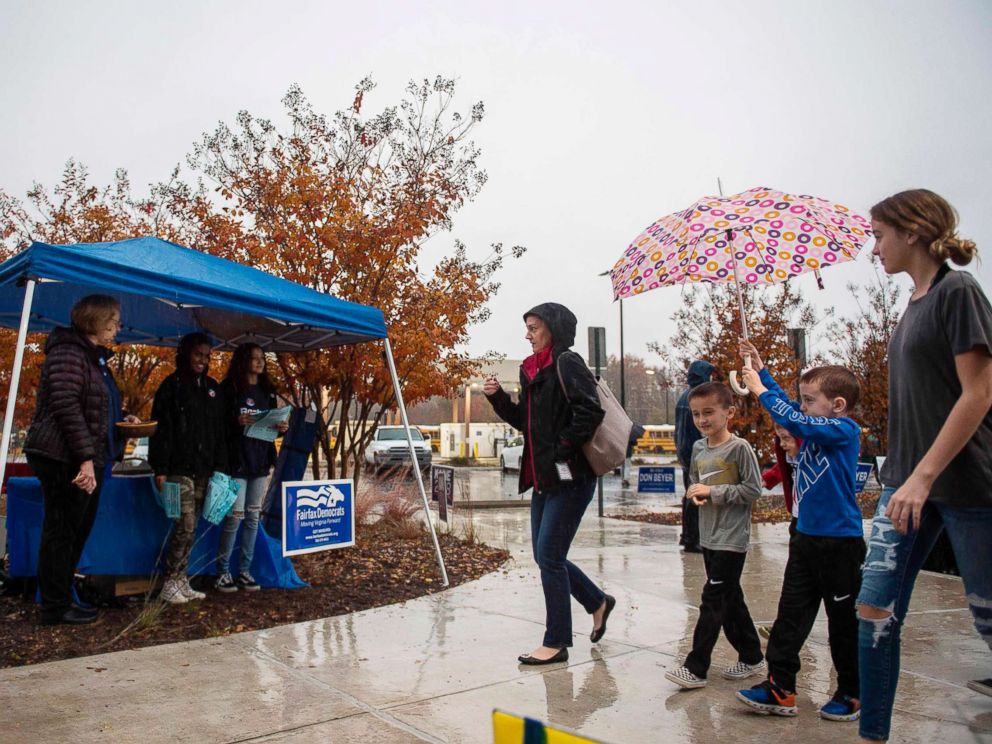 In North Carolina, ballots in some precincts couldn't be fed through tabulators, apparently due to high humidity, said the North Carolina Bipartisan State Board of Elections and Ethics Enforcement
In those cases, ballots were stored in secure "emergency bins" and would be tabulated as soon as possible, the board said.
"All ballots will be counted," the board said in a statement. "The State Board office has advised county election officials to work with their precinct officials to ensure voting areas are kept as cool and dry as possible."
"Wake County they have already replaced some of the tabulators and the new tabulators are working," said North Carolina State Board of Elections spokesman Patrick Gannon.
The board is looking at extending the voting hours in certain locations, he added.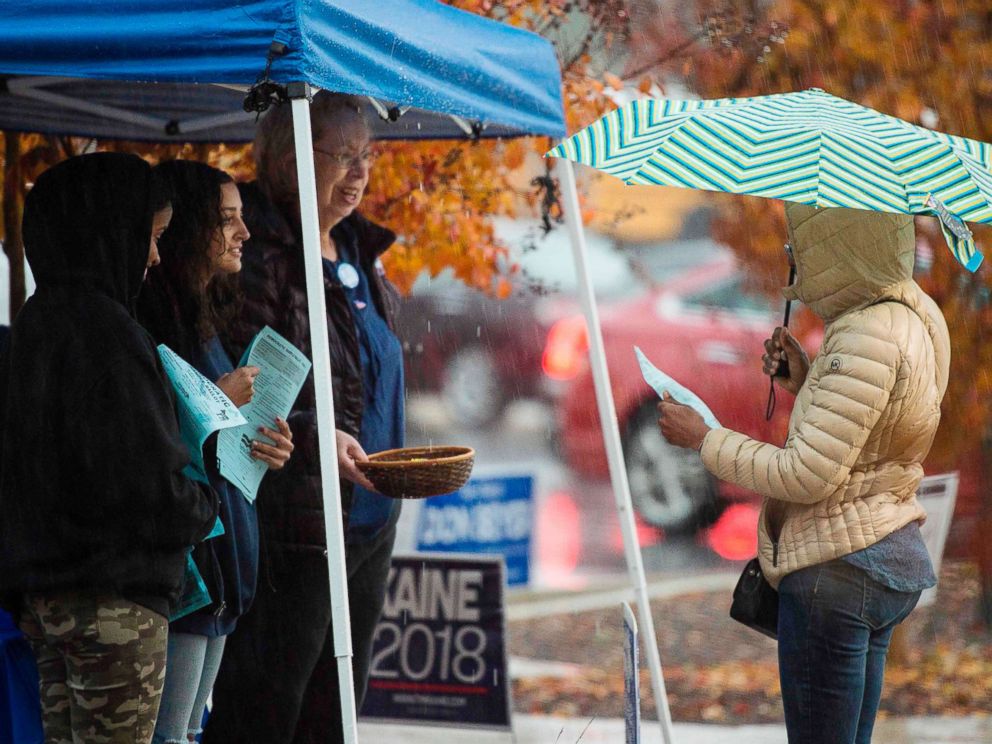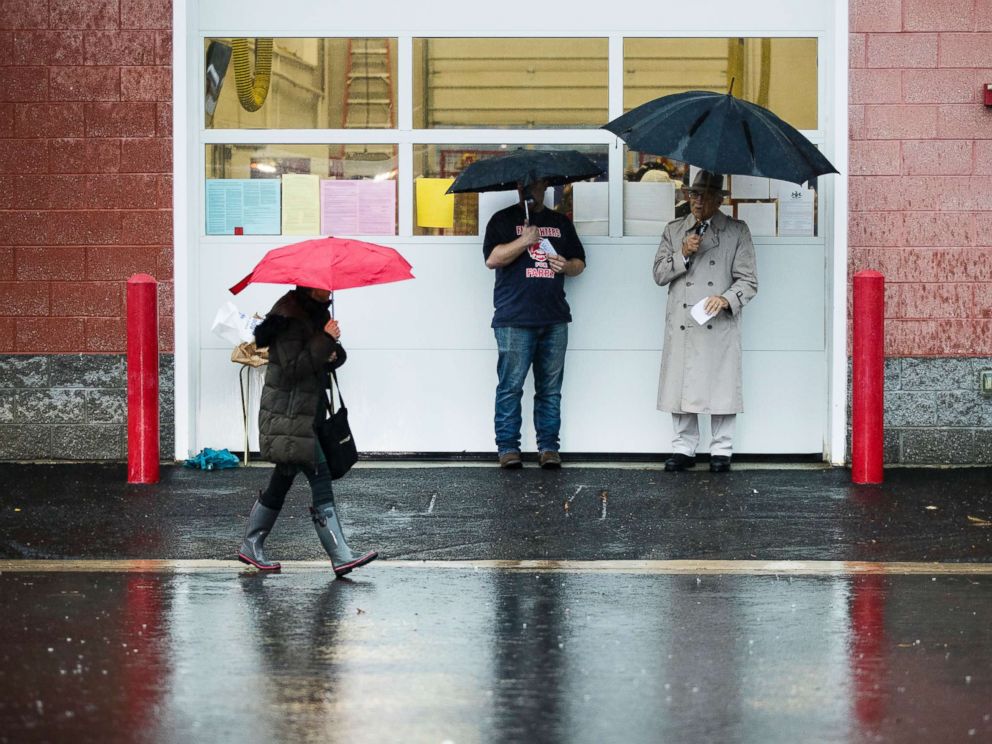 Wet weather also slowed lines at some New York City polling places.
The city's elections board said voters' wet hands and clothing appear to be leaving some ballots damp, causing them to jam in the machines.
Severe storms first struck overnight in Tennessee, where one person died from a tornado in Christiana.
The twister's winds reached up to 135 mph.
One of our survey teams is down in Christiana. Unfortunately there is one confirmed fatality. Preliminary EF-2 rating with 135 mph winds. There were injuries too, waiting on additional information. pic.twitter.com/dXXFrN9ZUd

— NWS Nashville (@NWSNashville) November 6, 2018
Total members without power at 6240. Crews finding lots of broken poles, possible tornado around Burroughs Cove in Pelham, where a roof was ripped off home, thankfully family is safe. pic.twitter.com/QRm5AyPUXi

— Sequachee Valley EC (@SValleyEC) November 6, 2018
The weather also left some polling stations in Tennessee without power, the state's elections coordinator, Mark Goins, told ABC News. Most polling places have generators and batteries to continue running their election operations, but at least one polling station without power in Knox County was forced to use emergency paper ballots, Goins said.
He said he does not expect the loss of power to cause a significant delay of election results.
Over 1 million Tennesseans had voted early before this round of storms hit the state.
In other parts of the country, rain was forecast to change to snow in the Upper Midwest and around the Great Lakes, with some snow accumulation possible from North Dakota to the Twin Cities.
Snow is also expected in the northern Rockies, with half a foot possible.
Warmer weather is expected in the southernmost parts of the country, from Los Angeles across to southern Florida.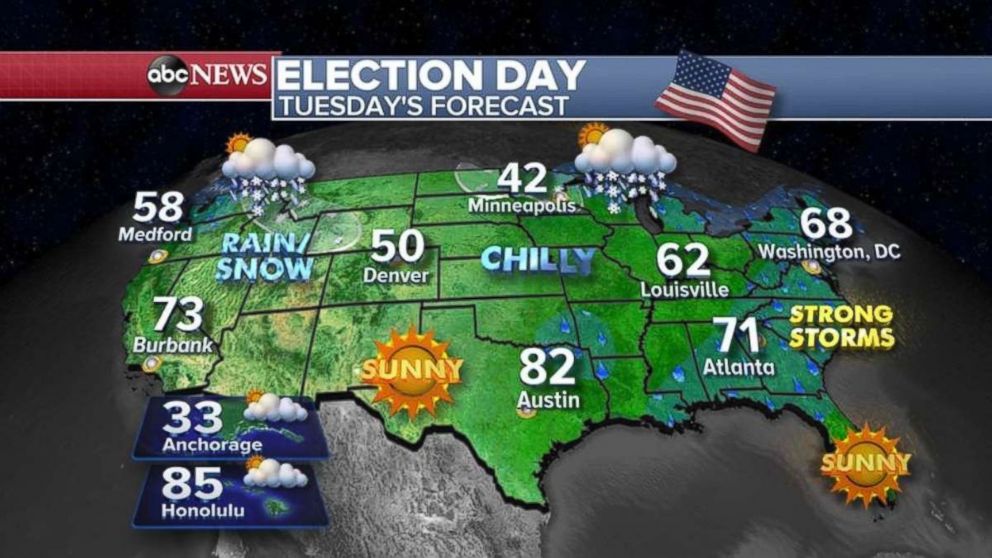 ABC News' Stephanie Wash, Aaron Katersky and Emily Shapiro contributed to this report.
Original Source