UPDATE: The Florida Senate race between incumbent Democrat Bill Nelson and Gov. Rick Scott (R) is heading for a recount that could begin as soon as Wednesday.
Scott claimed victory Tuesday night, but Nelson said Wednesday that he would not concede.
Florida state law triggers a recount ordered by the secretary of state when the margin of victory is 0.5 percent or less. According to unofficial results, Scott leads Nelson by 0.42 percent.
Florida Gov. Rick Scott has ousted Democratic Sen. Bill Nelson, a big step toward Republicans' hopes of hanging onto and even building on their majority in the U.S. Senate.
Scott, 65, will join Marco Rubio in Washington in January, giving the state two Republican senators for the first time since Reconstruction. Nelson, 76, had been seeking his fourth six-year term following his stint as the state's insurance commissioner and, before that, 12 years in the House as a congressman from the Space Coast.
Scott is finishing out two terms as the state's chief executive and could not seek a third because of term limits. He was seen as among the GOP's strongest recruits to take away Democratic-held Senate seats, and his victory likely makes it impossible for Democrats to win back the chamber this election.
Scott's two previous election victories had been squeakers ― 1.1 percentage points each time ― and his Senate victory will likely be even narrower, less than 1 percentage point, by the time all the votes are counted.
Florida now has three times elected to statewide office the man who in the 1990s ran the for-profit hospital chain that agreed to pay $1.7 billion in fines for systematically defrauding Medicare, Medicaid and veterans health programs. Scott invoked his Fifth Amendment right not to incriminate oneself 75 times during a deposition in a related civil trial about his role in the fraud committed by Columbia/HCA.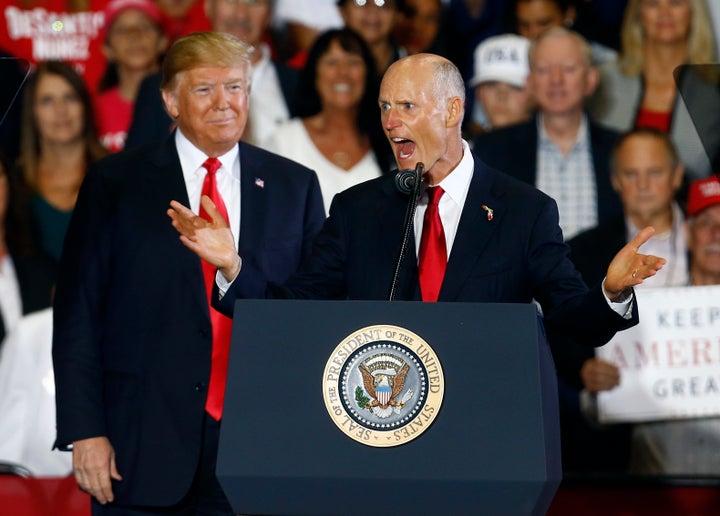 During Scott's first run for governor in 2010, both his Republican opponent in the primary and Democratic nominee Alex Sink used that history in negative ads against him. But Scott was willing to spend freely from his personal fortune of hundreds of millions of dollars and managed to eke out narrow wins against both.
In 2014, Scott barely won re-election against Charlie Crist, who had been the Republican governor before Scott but had since become a Democrat.
In fact, Scott's popularity only broke 50 percent on a consistent basis in 2017, after his generally well-regarded handling of Hurricane Irma. That improvement in his polling numbers, in addition to his continued willingness to spend heavily on his own campaigns, made national Republicans believe that Scott had a good chance of defeating Nelson, whose two previous re-elections had been against weak opponents.
All that, though, was before this summer, when red tide worsened along the southwest coast of Florida and blooms of thick, blue-green algae from Lake Okeechobee began choking Fort Myers on the Gulf of Mexico and Stuart on the Atlantic Ocean. When the freshwater algae hits salt water at the coast, it dies, releasing toxins into the water and air ― and, scientists believe, providing additional food for the naturally occurring red tide bacteria. The result has been the deaths of millions of fish, sea turtles, dolphins and manatees, with their carcasses washing up on beaches and adding the stench of decay to air already acrid from the red tide toxins.
Many environmentalists blamed Scott for the calamity. He had slashed budgets for the agencies responsible for safeguarding the water quality in Lake Okeechobee and eased enforcement efforts against polluters.
Scott faced protests late this summer at campaign stops in Fort Myers and Venice ― both Republican strongholds. He largely refrained from coastal campaign visits as the red tide spread up Florida's eastern coast, and then he stopped campaigning altogether after Hurricane Michael struck the Panhandle last month.
Scott, though, had the advantage of running for the Senate as a sitting governor. Governors of a state are well known to voters and are able to take credit for day-to-day accomplishments, while senators have nowhere near that level of visibility. The last incumbent senator to lose election in Florida, in fact, was defeated by a sitting governor: Democrat Bob Graham ousted Republican Sen. Paula Hawkins in 1986.
In the end, the advantage of that bully pulpit combined with the tens of millions of Scott's own dollars he put into his race was enough to win.
Original Source